Congratulations to our Teacher of the Year – Ms. D!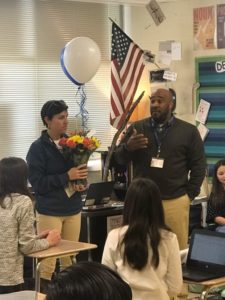 We are excited to share the 2019-2020 Sedgefield Middle School Teacher of the Year is Ms. Cynthia Dick! Ms. D is a fantastic English Language Arts teacher who serves our 6th graders with incredible energy and passion. It is a pleasure to be a scholar in Ms. D's class and she is such a valuable asset to our school community. If you see Ms. D around school, please don't hesitate to tell her congratulations!
Want to learn more about Ms. D? Click here to read her previously-published Spartan Spotlight in the Spartan Express newsletter.