Hispanic Family Night a Big Success!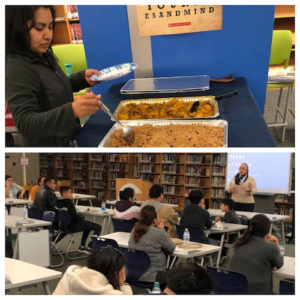 The first-ever Hispanic Family Night was held at SMS on Thursday, February 27. Nearly 30 of our parents and scholars enjoyed an evening – presented completely in Spanish – with dinner, how-to's on navigating PowerSchool and ParentSquare, information on planning for future careers, and so much more. Thank you to Sedgefield Middle supporter Grisel Fernandez for organizing and leading this fantastic event, and to the Caribbean Hut for providing the delicious meal!
Estimados padres de familia – muchas gracias a todos aquellos que participaron en el evento del día jueves 27 de febrero que fue llevado acabo completamente en español en Sedgefield MS. Se trató acerca de cómo utilizar herramientas para apoyar a sus hijo en la escuela. Tocamos temas acerca de PowerSchool, Parent Square y como abogar por los estudiantes de Sedgefield. Su presencia es muestra de la dedicación hacia el desarrollo escolar de sus hijos.
Para cualquier pregunta o si tiene alguna una consulta acerca de esta charla o algunos de nuestros eventos en español, por favor comuníquese con Grise Fernández al grisel219@yahoo.com.