Packed House at the Open House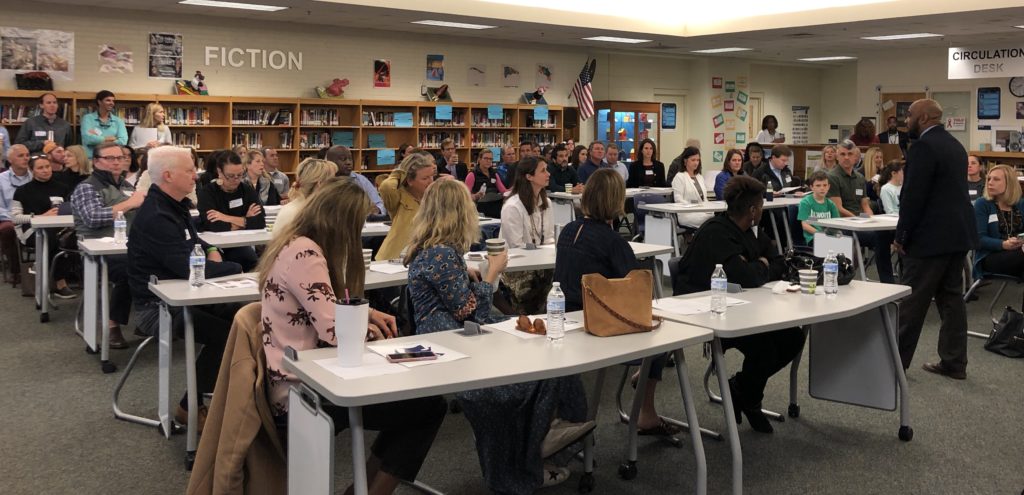 Families of rising sixth graders (and some of the rising sixth graders themselves!) joined Sedgefield Middle School on Wednesday, November 7 for our first prospective parent open house of the year. In the filled media center, Principal Turner gave an overview of Sedgefield's curriculum, school size, electives, athletics and club offerings. Tara Sullivan, central learning community superintendent, and school board member Margaret Marshall joined to welcome interested families and give an update on CMS support of our school. Following the information session, families were guided by staff and teachers for a complete tour of Sedgefield's facilities. Thank you to all of the prospective families for joining us and to the faculty, staff, administration and volunteers for helping organize this fantastic event!
Mark your calendars for upcoming Spartan events for prospective families and students:
Wednesday, November 13 – Prospective Spartan pep rally at SMS, 9:30 a.m. – 10:30 a.m.
Wednesday, January 8 – Prospective Parent open house and social, 6 p.m. – 8 p.m.
School tours offered twice per month. Click here to sign up!