Sedgefield Middle Kicked Off 2020 with Focus on Health and Wellness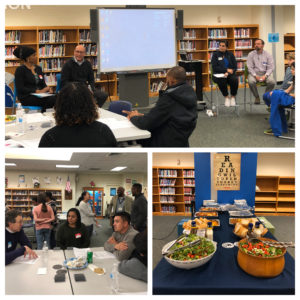 Nearly 40 members of the Sedgefield Middle community kicked off 2020 with a free lasagna dinner, a general PTO meeting and our first-ever Spartan Health and Wellness event on Wednesday, January 15. After PTO updates from Lindsay Jones, president, and Courtney Reynolds, treasurer, Principal Turner gave a general update on the school and introduced the event's four guest speakers.
Detective Kenny Lynch of CMS law enforcement focused on internet safety and use of social media, with guidelines on limiting screen time for scholars and making age-appropriate decisions for smart devices. Detective Lynch said, "With smart devices, we are giving our kids access to the world and the world access to them."
From Dilworth Drug & Wellness Center, Josh Rimany, RPh and chief wellness officer, and Connie Mullis, NDTR and nutrition specialist, spoke on the importance of childhood nutrition. Limiting sugar, eating colorful fruits and veggies, giving scholars plenty of sleep, managing stress, and exercise are "the foundations of a healthy lifestyle," they said. "You are what you eat…and healthy habits have a generational influence."
Closing out the event was Eboné Lockett, a CMS educator and community advocate. Ms. Lockett stressed the need to connect with our community – those in proximity to us – across ages, genders, ethnicities, experiences and even food in order to build a supportive community.
Mr. Turner said the impetus for creating a health and wellness event was the understanding that "what happens outside of our school affects what happens inside our school. We asked ourselves how we could best promote health and wellness for our families with the help of community experts."
Thank you to all attendees and organizers, our special guest speakers and our partners at Myers Park United Methodist Church for providing dinner. We look forward to this being the first of many events to promote a broader health and wellness initiative at Sedgefield Middle!