SMS Staff Appreciation Week – May 4 – 8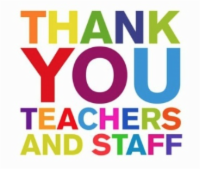 SMS Staff Appreciation Week is this week and, with our new virtual learning environment, we need YOUR help! Below are activities for each day of the week to let teachers and staff know how much we love, miss and appreciate them:
Monday, May 4 – STUDENTS fill teachers' inboxes with notes of appreciation and kindness.
Tuesday, May 5 – PARENTS send teachers your own e-mail messages of appreciation.
Wednesday, May 6 – STUDENTS, show your school spirit and sport your Spartan Wear!
Thursday, May 7 – PTO hosts an Amazon gift card giveaway for teachers and staff.
Friday, May 8 – ALL SMS STAFF are invited to write a poem or limerick about SMS; those who participate will be eligible to have their names entered into our raffle for a $100 Amazon gift card!