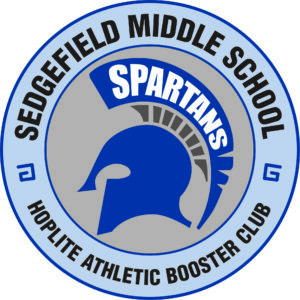 The Hoplite Athletic Booster Club, a 501(c)(3), was established in 2018 to promote and foster the character and skill development of our scholar athletes through the support of sports and other extra-curricular activities. The Hoplite Athletic Booster Club provides logistical, volunteer and financial support for the student athletes committed to achieving excellence in the classroom, on the field and in the community.
What's a Hoplite?
A Hoplite was a citizen-soldier of the ancient Greek city-states. Hoplites were free citizens who served the army of Sparta for their entire lives – training and exercising in war and in peacetime. Ultimately, the Hoplites contributed to the creation of the Olympic games and were famous the world over for their namesake event, the Hoplitodromos. Soldiers wore their helmet, their greaves (modern shinguards) and carried their aspis (shields) for a 400-meter foot race inside the coliseum.
Working Together with Community Partners
The Hoplite Athletic Booster Club relies solely on donations and community partnerships. We have achieved all of the following thanks to our amazing community support:
Improved our baseball field conditions (Dilworth Little League)
Installed a new baseball scoreboard (Whitney Teed, Eagle Scout)
Upgraded our batting cage (Matthew Peine, Eagle Scout)
Installed a new flagpole and flags in centerfield (Jake Brietz, Eagle Scout)
Added new decals to our football team helmets
Purchased a new football tackling sled
What We Have Planned
We partner closely with Lisa Oberlin, SMS Athletic Director, and Principal Turner to create a comprehensive list of items to immediately impact our athletes' experience on and off the field. These needs are not covered by the CMS budget. Below is a sample of what we'd like to achieve moving forward:
High jump mat and bar with standards
New soccer goals
Ice machine for concession stand
Baseball field access graduated ramp (to replace stairs)
Football/soccer field bleachers
Mobile concession stand/trailer for refreshments during games
Baseball bleachers
Irrigation system for football field
Team benches
Outdoor tents
Scrimmage vests for each team
Warm-ups for each team
Uniforms for baseball, basketball, soccer and cheer teams
Water bottles
Volunteer t-shirts
Building out a new weight room
Starting a Hoplite Club membership drive
Volunteer Your Time
The Hoplite Athletic Booster Club organizes volunteers to serve our scholar athletes in a number of ways. Click here to review the volunteer needs and sign up to help, or contact Chris Moeller, Hoplite Athletic Booster Club Chairman, at chrism@oriongrowth.com or 704-577-9803.
We need help with all of the following (in order of importance):
Lining the athletic fields
Hoplite Athletic Booster Club website manager
Event concessions
Pictures of teams and sporting events for the website and/or yearbook
Chain crew for football games
Keeping the books for baseball, basketball and softball
Volleyball scoreboard/clock keeper
Volleyball line judges
Track meet timers
Ball boys/girls for soccer games
Snacks for athletes
Beautification projects around campus
We Need Your Help
The success of the Hoplite Athletic Booster Club relies on community involvement through opportunities to donate and volunteer. If you are interested in supporting our efforts through the gift of time, money, or sponsorship, please contact Chris Moeller, Hoplite Athletic Booster Club Chairman, at chrism@oriongrowth.com, or 704-577-9803.